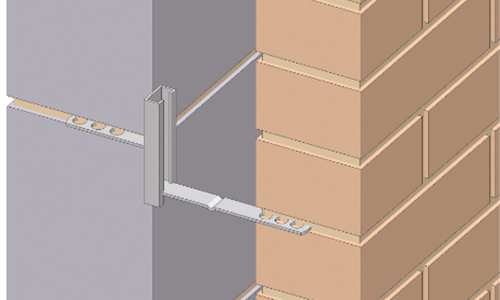 The Fastrack Tie system is designed to overcome a common site problem with differential coursing, or when one leaf of the cavity wall is built prior to the other.
The use of imperial or continental sized masonry with standard metric blockwork, can create a problem with coursing that traditional Cavity Wall Ties cannot accommodate.
Solution
Using the Fastrack Tie system overcomes this problem by building a short section of restraint channel into the inner leaf of the blockwork, ready for a suitable C28 Tie to be installed to tie back the outer leaf.
This method of construction also eliminates the extra hazard of ties projecting from the inner leaf.
The system uses a short length of WC28 Channel with a Restraint Tie welded to the rear and is used in conjunction with a WT##C28 Channel Ties. Ties are available in various lengths, styles and outer fixing ends.
See our Channel Ties section for more information.
Flexibility
The Fastrack Tie system can also be used for tying stonework to blockwork with WTDP2C28 Dowel Pin End ties or similar. See also our Stone Fixing Ties section.
Wincro's Fastrack Channel and Ties are manufactured from 1.4301 (304) stainless steel and exceed the requirements of BS5628-1 as a Type 2 tie.