Wincro has developed an extensive range of stainless steel wall ties and restraint fixings to comply with all relevant standards which meet the vital requirements for the stability of masonry designs.
All Wincro ties are made from high quality 1.4301 (304) stainless steel which should be suitable for most building applications. For more corrosive environments, Grade 1.4401 (316) is also available.
Range of Wall Ties
Standard Strip Ties – Wincro's range of standard and special ties can be used in many applications such as masonry-to-masonry, masonry-to-concrete and masonry-to-steelwork.
Wincro Cavity Wire Ties – The Wincro range of cavity wire wall ties is suitable for dwellings up to 3 storeys.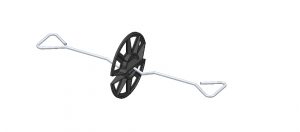 Movement Ties – This tie restrains masonry against lateral wind loads while at the same time allowing for expansion and contraction. Movement ties use the Wincro WDS plastic debonding sleeve.
Wincro Frame Cramps – A full range of standard and bespoke cramps to suit cavities from 10mm upwards.
Universal Column Ties – The UC tie is a time-saving solution for tying masonry to steelwork and eliminates the need for on-site drilling or shot-firing.
Fast Track Tie System – Typically used where the inner leaf is built before the outer leaf and particularly useful with irregular coursing between inner and outer leaves.
Two Part Tie – The innovative answer to larger cavity situations.
Channel Ties – Construction time is reduced and on-site drilling rendered unnecessary by the range of ties for use with cast-in channels. Ties are available in a wide variety of sizes and ends to suit bonded and debonded joints.
Sliding Brick Anchors – These restraint fixings provide a mechanical tie between masonry cladding panels and the building frame where a movement joint is used. Available with a variety of head and stem configurations to suit all construction details.
Stone Fixing Ties & Cramps – When selecting ties for restraining stone cladding, reference should be made to the appropriate Standard – and, of course, to the help available from Wincro's Technical Design Team.
Masonry Reinforcement – Provides additional strength to masonry cladding panels and strengthens the leaves of cavity walls.
Remedial Wall Ties – Providing an economic repair solution where traditional cavity wall ties have failed, Wincro provides a complete range of expanding mechanical and resin-fixed remedial wall ties.